The PZU Group's ambition is to accompany clients, to make it easier for them to make the right choices to help them protect their future and what they consider to be the most valuable.
PZU Group
Powszechny Zakład Ubezpieczeń Group (PZU Group, Group) is the largest financial institution in Poland and Central and Eastern Europe. PZU heads up the group and its traditions date back to 1803 when the first insurance company was established in Poland. Since 2010, PZU has been listed on the Warsaw Stock Exchange where it has been one of the large cap blue chips offering the highest amount of liquidity from its floatation.
PZU Group has over PLN 300 billion of assets and it renders services in five countries. According to spontaneous brand recognition surveys, PZU comes in at 88%, while aided brand recognition is 100%, making PZU the best recognized brand in Poland.
Group companies are active not only in life and non-life insurance but also in investment, pension, health care and banking products. They cooperate with various industry leaders in the framework of strategic partnerships by creating tailor-made products for their clients. For instance, by collaborating with companies in the telecommunications industry and the power sector, PZU offers insurance of electronic equipment and assistance services to individuals and businesses. In addition, the Group has kicked off collaboration with LOT and Allegro in the framework of strategic partnerships in 2018.
It is the Group's strategic ambition to pursue a new approach to building client relations, thereby leading to the integration of all operating areas with the client at the focal point. This will make it possible to deliver products that are well-matched to clients at the appropriate time and place and respond to other client needs on a comprehensive basis. This process will be supported by harnessing tools rooted in artificial intelligence, big data and mobile solutions that will contribute to building an entrenched technological advantage in integrated client service.
PZU is an organization operating at a large scale. It is also cognizant of the expectations various stakeholder have of it, including clients, employees, investors, partners, industry experts, social environment and a number of institutions and organizations. That is also why managing relations with stakeholders and their impact on the business community is accomplished in a deliberate and sustainable manner. PZU is a company that is open to social expectations. In the actions it takes it strives to set trends and construe business solutions responsibly. It also gets involved in actions to benefit the local communities in which the Group's clients and employees function. For the PZU Group, sustainable management is a deliberate choice of how it conducts its business, thereby making it possible to build the company's long-term value in an ethical and transparent manner while giving consideration to stakeholder needs and expectations.
PZU's activity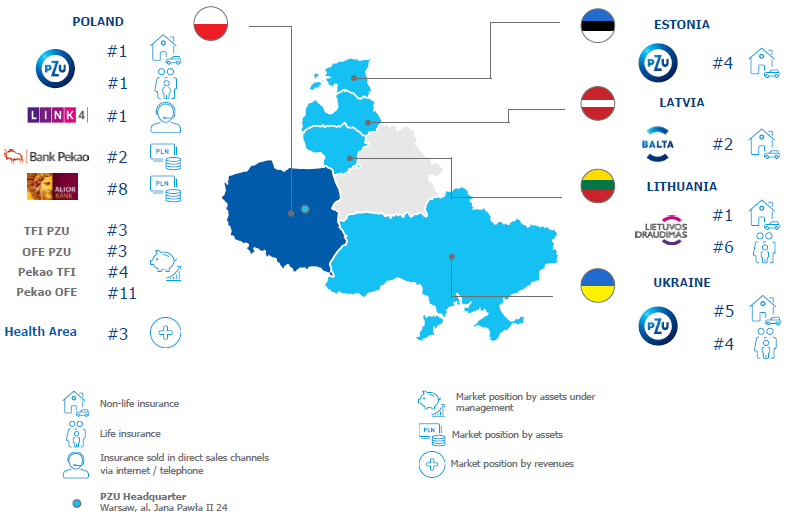 Best practices [GRI 102-16] [GRI 103-1] [GRI 103-2] [GRI 103-3]
The document underlying the PZU Group's ethical standards in a set of best practices intended toshape the company's organizational culture in all key aspects of its operation. Pekao and Alior groups have their own sets of ethical standards in place, which are in many aspects consistent with the practices adopted by the PZU Group.
The main objective of PZU's Best Practices is to define the behaviors and manners of conduct toward all stakeholders of the company based on respect and trust. At the same time, this document serves as a common denominator for the corporate culture among all members of the Group. Due to the systemic compliance of our fundamental principles, all our activities and processes are carried out based on coherent assumptions, thus ensuring a high operating standard throughout the Group.
In keeping with the applied management philosophy, the set of Best Practices was initially defined within PZU and PZU Życie and was then subsequently adapted by other members of the Group, including its foreign subsidiaries. From the practical point of view, it contains fundamental values for the policies and regulations in place within the PZU Group, related to the following:
reliability, honesty and accountability in relations with clients and the environment,
preventive, charitable and sponsoring activities,
interpersonal relations, innovation, occupational safety,
respect for the human being,
protection of information and personal data,
counteracting corruption.
On the basis of the foregoing assumptions, the following guidelines have been developed for the policies implemented within the Group:
Contacts with clients are based on trust.
We inform clients honestly about PZU's offering.
We protect everyone's personal data, in particular the data of our clients, business partners, employees and users of our websites.
We care for the security and protect any electronic devices provided to us by PZU.
We protect all resources, including information constituting intellectual property of PZU.
In executing agreements, we comply with the law, in particular with the principles or fair competition and consumer protection.
We always act in such a manner that our brand cannot be accused of violating any trademark protection laws.
The duty of each of us is to act responsibly and avoid situations which could result in a conflict of interest understood as a discrepancy between one's individual interest and the interest of PZU.
We have zero tolerance for corruption. We do not give or accept prohibited gifts or benefits in relationships with our business partners, their staff or representatives or other parties.
Charitable donations or sponsorships are acceptable only if they comply with applicable laws and rules defined in PZU's internal regulations.
The employees cannot use the PZU name in any political projects or initiatives. It is prohibited to support any political candidates or parties using PZU's funds.
[GRI 102-12] The processes executed within the PZU Group are based additionally on other generally recognized standards, such as:
Code of Best Practice for WSE Listed Companies,
Canon of Best Financial Market Practices,
Corporate Governance Rules for Financial Institutions (including TFI PZU and PTE PZU)
Best Insurance Practices,
Rules for Advertising Insurance Services.
Within the Pekao Group, there is a Rules Charter in place applicable to all companies engaged in operational activities. The Charter is a set of the group's fundamental corporate values, namely: equality, transparency, respect, reciprocity, freedom and trust, and indicates desirable patterns of behavior toward colleagues, clients, suppliers, investors and local communities.
In the Alior Bank Group, a Code of Ethics is in place, implemented in the four largest companies of the group, namely: Alior Bank, Alior Leasing Serwis Ubezpieczeniowy and Money Makers TFI. The Code of Ethics is composed of several parts containing the rules of conduct toward clients, employees, business partners, market participants and local communities. Moreover, the document encourages employees to care for the natural environment. In 2017, during the event dubbed Compliance Week, the values contained in the Code were promoted throughout the Alior Bank Group.
In TFI PZU, since 2006, an additional document has been in force, with only few exceptions, entitled "Code of Good Practices of Institutional Investors", prepared and approved by the Chamber of Fund and Asset Management. For TFI PZU, the Code provides a great deal of support in defining the rules, moral and ethical standards and due diligence levels in the company's relationships with other institutional investors, clients and issuers of financial instruments.
Stakeholders and forms of dialog
[GRI 102-43] The PZU Group's stakeholders play an important role in the Group's operations both in financial and non-financial terms. Their involvement in the dialog process enables PZU to obtain useful information significantly affecting a host of its business areas (in particular strategic planning and environmental impact management). The selection of various groups of players is made with the significance of the pertinent relationship and the strength of their bonds with the PZU Group in mind.
In 2017, a new initiative got underway involving the dialog with employees, intended to improve the transparency of the PZU Management Board's actions. Accordingly, meetings have been held attended by employees and representatives of the PZU Management Board to discuss financial performance in the relevant reporting period and the degree of achievement of strategic objectives. During these meetings, employees have the opportunity to ask questions. The entire event is broadcast live on the Intranet. In 2017, three such meetings took place following the publication of quarterly results.
PZU' Stakeholders [GRI 102-40], [GRI 102-44]
This map does not describe the activities implemented at Bank Pekao or Alior Bank where tailored approaches to external relations are in place.
[GRI 102-13] The PZU Group is also engaged in the activity of plentiful organizations and associations:
The most important of them are:
Polish Insurance Association – since 1 January 2004,
Insurance Indemnity Fund – since 1 January 2004,
Polish Motor Insurers' Bureau – since 1 January 2004,
Polish Association of Listed Companies – since 22 June 2010,
Road Safety Partnership – since 7 December 2010,
Compliance Association Poland – since 16 October 2013,
Chamber of Fund and Asset Management,
Chamber of Commerce of Pension Fund Companies,
Polish Banks Association (with Alior Bank and Bank Pekao as its members).
Business model
[GRI 102-2] The Group's operating model rests on a comprehensive offering of services in the fields of insurance (life, non-life), finance (banking, pension and investment products) and health (health insurance, insurance for medicine, medical service bundles). The factor which is assumed to ensure the permanence of relationships with clients is the sales proposition that is unique on the market in that it offers appropriately tailored products in accordance with the terms and conditions expected by the client.
[GRI 102-10] Due to the evolution of the Group's structure and the rapidly evolving market situation, in 2018 PZU announced the "New PZU" Strategy". It defines a new mission as "We help clients care for their future", which is a new and broader approach to establishing a long-term relationship with the client in a manner that reaches way beyond the insurance area. In practice, this means a shift of the applied business model toward a service-oriented company that helps its clients to care for their future and where client relationships and the knowledge of clients are becoming the main value, while the chief product is the acumen in addressing client needs to build a stable future.
The primary "change vector" is system-based management in the area of client relation development. The redefined new approach assumes the integration of all corporate areas around the client and a transformation toward an advisory and service-oriented company. Such a shift will make it possible to care for the clients' future and satisfy their needs comprehensively when it comes to life, health and property insurance as well as savings and finance. It will also contribute to achieving ambitious financial targets and building the position of the most innovative institution in the financial industry.
Value creation model of the PZU Group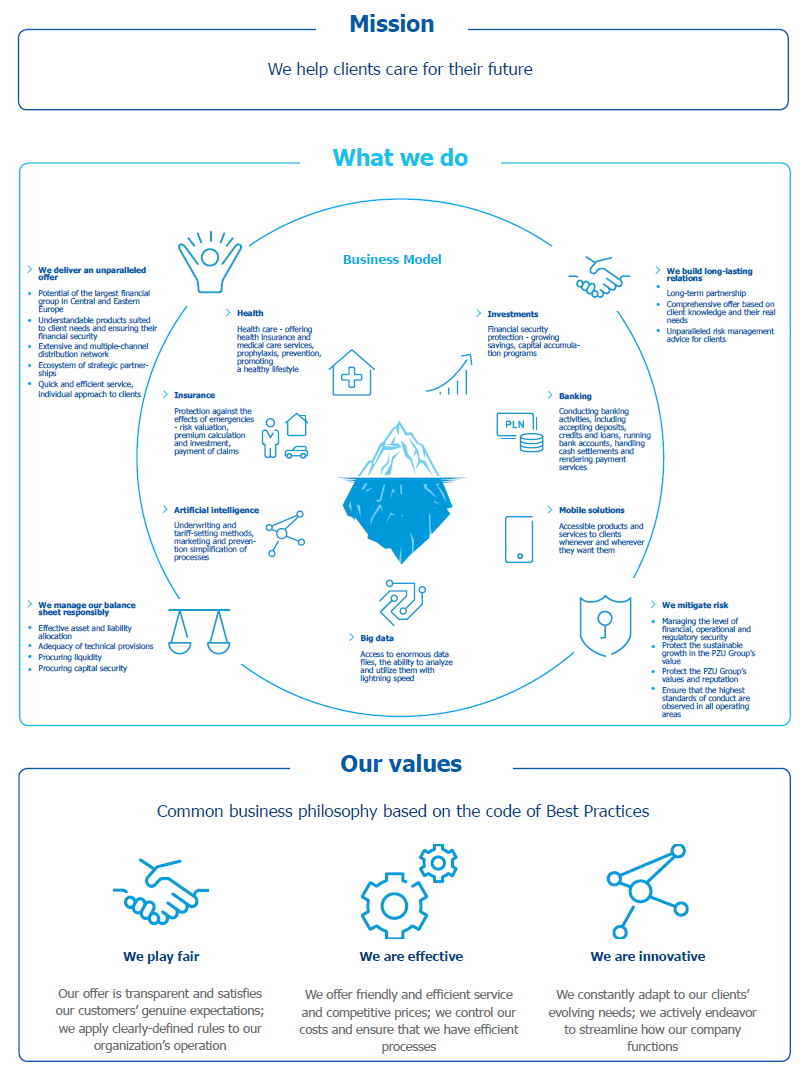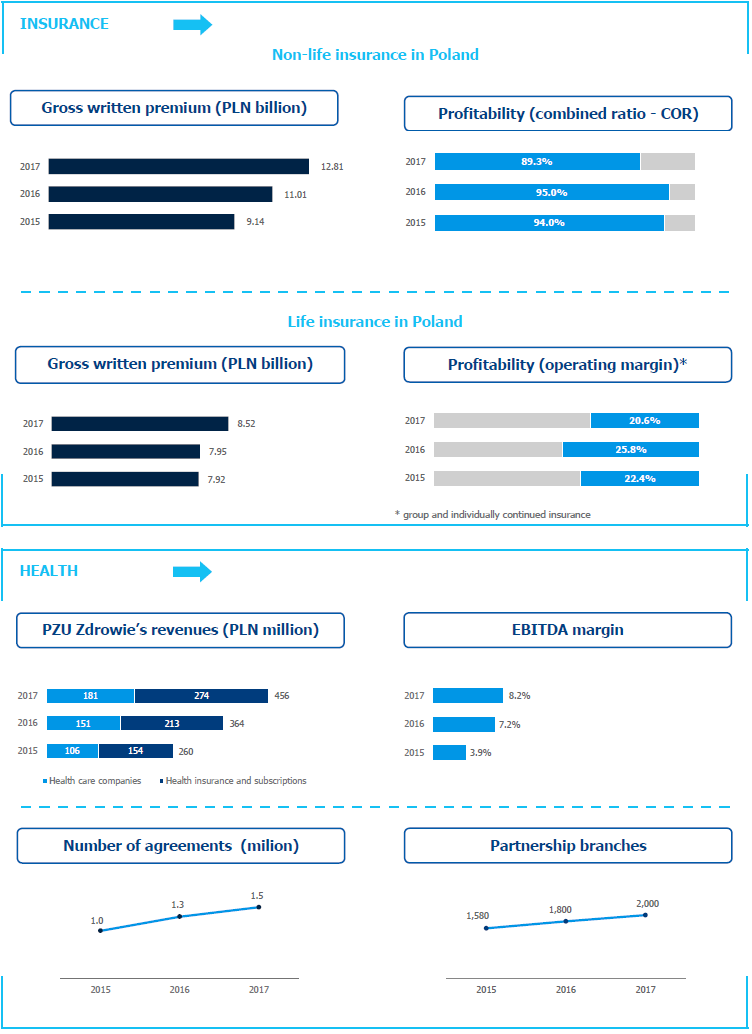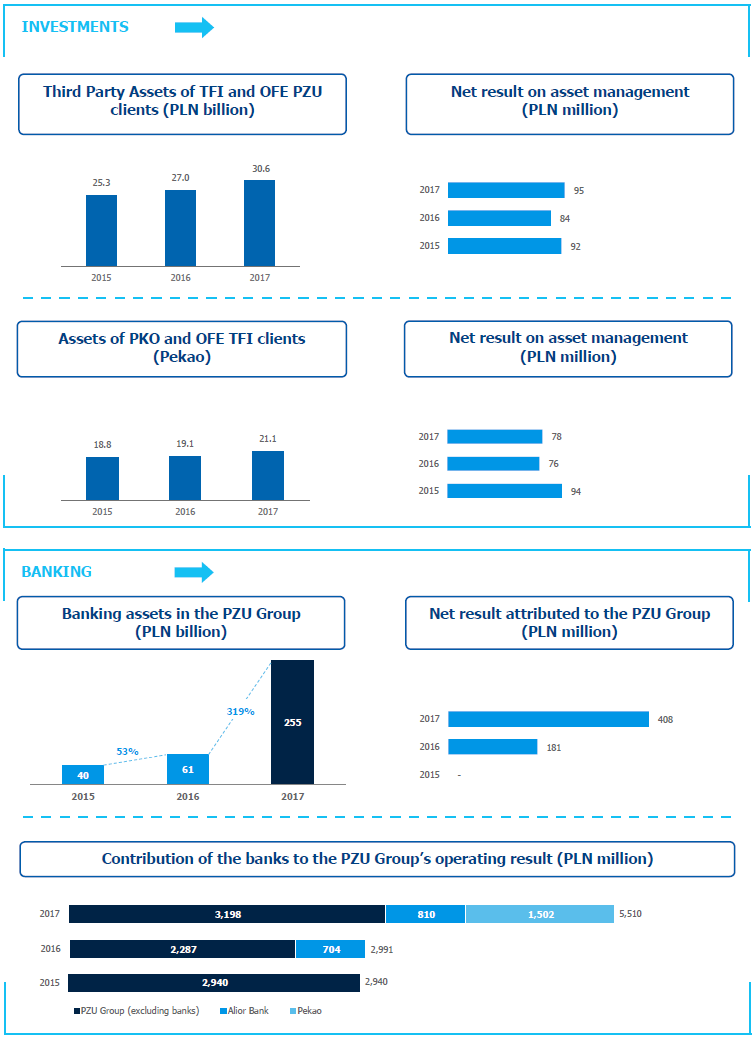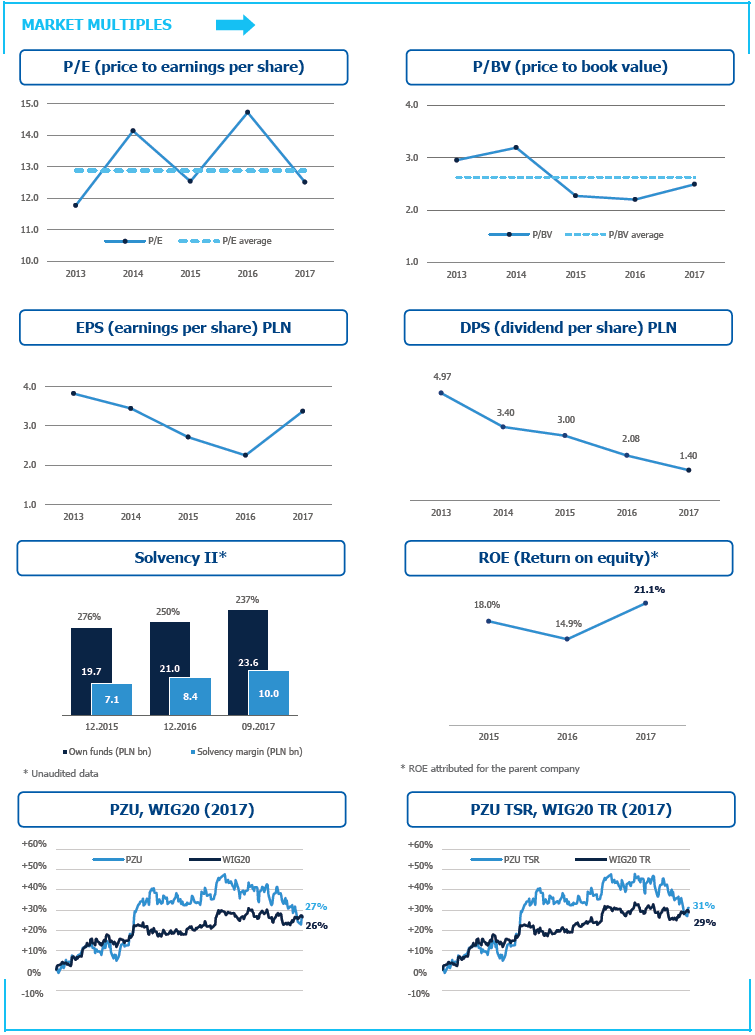 PZU Group's consolidated highlights for 2013-2017 (PLN million)
The PZU Group is characterized by a high level of security of its operations. This is confirmed by both high capital adequacy ratios and the rating of the American rating agency S&P Global Ratings at the level of A-.
On 27 October 2017, the S&P agency upgraded PZU's rating outlook from negative to stable. At the same time, PZU's financial strength rating remained at A-. This is one of the highest possible ratings for a Polish company. In their report, S&P analysts emphasized that: "Group stability and transparency of investments in the banking sector supports the current creditworthiness of the PZU Group in the medium term." Chapter 8.8 RATING

Financial strength rating
and credit rating
awarded to PZU by S&P
Selected awards and distinctions
The PZU Group received numerous awards and distinctions for the activity in 2017. We present some selected ones below.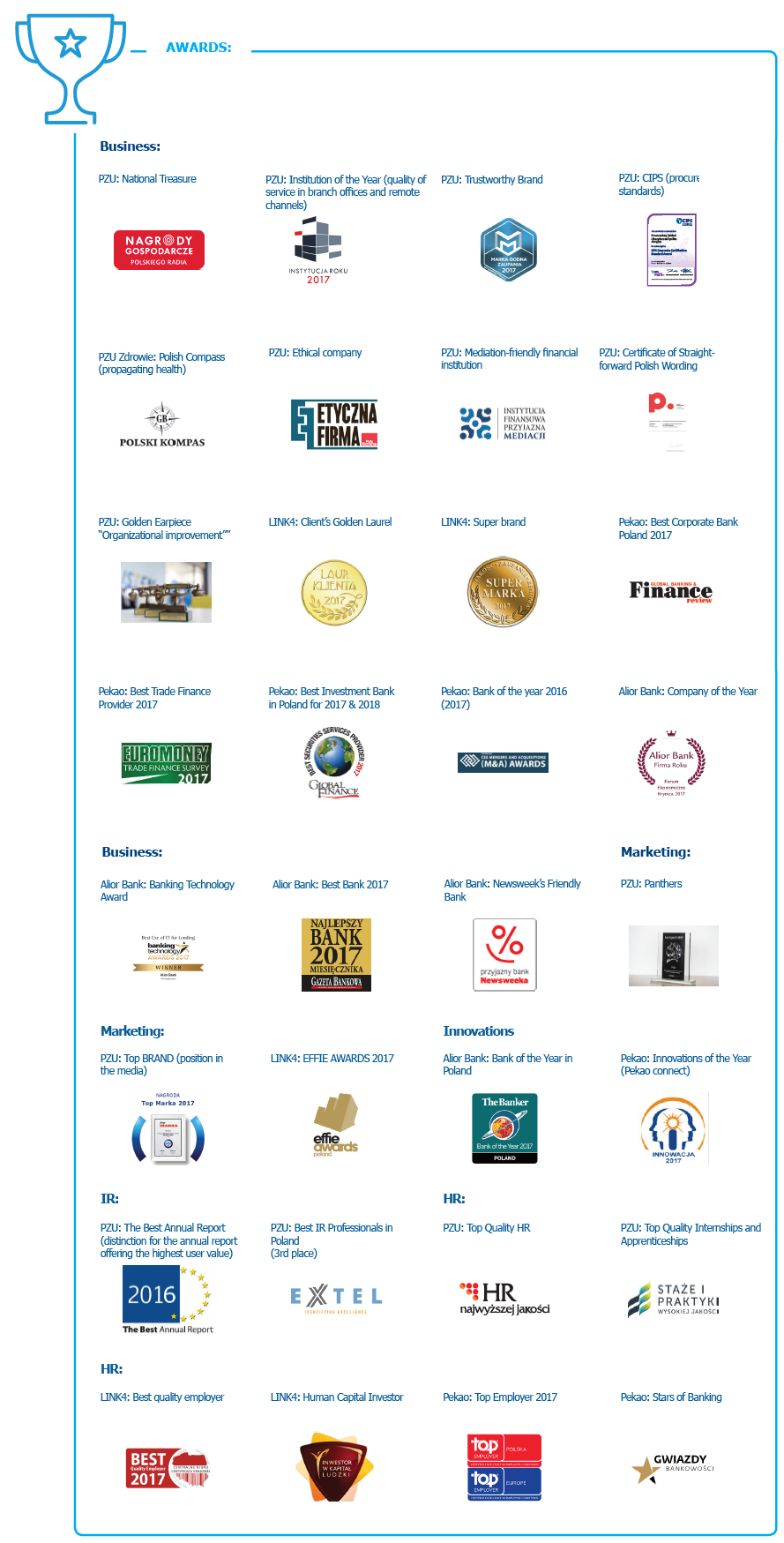 Calendar
23 MARCH
Dismissal of Michał Krupiński from being the CEO of PZU
13 APRIL
Appointment of Paweł Surówka to be the CEO of PZU
07 JUNE
PZU and PFR finalize the acquisition of a 32.8% equity stake in Bank Pekao
29 JUNE
Annual General Meeting of Shareholders
30 JUNE
PZU raises PLN 2.25 billion in a private subordinated bond issue
19 OCTOBER
Payment of a dividend from the profits generated in 2016 (PLN 1.40 per share)
27 OCTOBER
S&P Global Ratings raises PZU's rating outlook from negative to stable