The foundations underlying employee issues in the PZU Group are the PZU Good Practices which define:
common values and ethics management rules;
work conditions (incl. remuneration policy, benefits other than salaries);
competence development;
occupational health and safety.
The ambition of the PZU Group is to be a first choice employer in the financial industry and have the best and most dedicated personnel in the market as well as a high retention level of the greatest talents in the organization.

The attainment of such ambitious goals is to be support by:
enabling development within the largest financial institution in Poland and Central and Eastern Europe;
building a new quality of corporate culture by promoting entrepreneurship, innovation and team work;
improving the response time to a reported intention of leaving the company;
developing a set of actions aimed to retain key employees.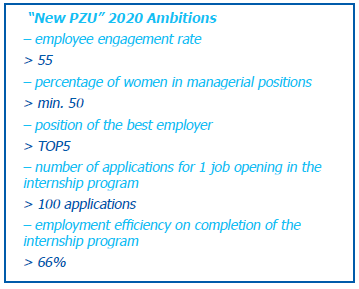 The PZU Group aims to create increasingly attractive jobs that offer friendly work environment and development opportunities. It also ensures the respect for work and life balance, which is reflected in the engagement and efficiency of the employees.
In view of the scale of employment, the solutions adopted in PZU and PZU Życie (most procedures in both companies are the same) are of key importance for the PZU Group. What is more, they determine the approach and internal regulations applied or intended to apply in other companies within the group.
Number of employees by function (%)
Number of employees by age (%)
The management philosophy focused on the most valuable employees guides the activities of the PZU Group still before the recruitment process, i.e. activities at universities in Poland, Lithuania and Latvia. The participation in various types of academic community events, organization of contests as well as internships allow the group on the one hand to get to know the best students and, on the other, persuade them that work at one of the largest financial firms in Central Europe is a great opportunity for them.