The PZU Group conducts various activities in insurance and finance. In particular, the Group's companies provide services in life insurance, non-life insurance, health insurance and they manage client assets within its open-ended pension fund and mutual funds, and thanks to its investment in Bank Pekao and Alior Bank they also offer banking services.
Structure of the PZU Group (as at 31 December 2017)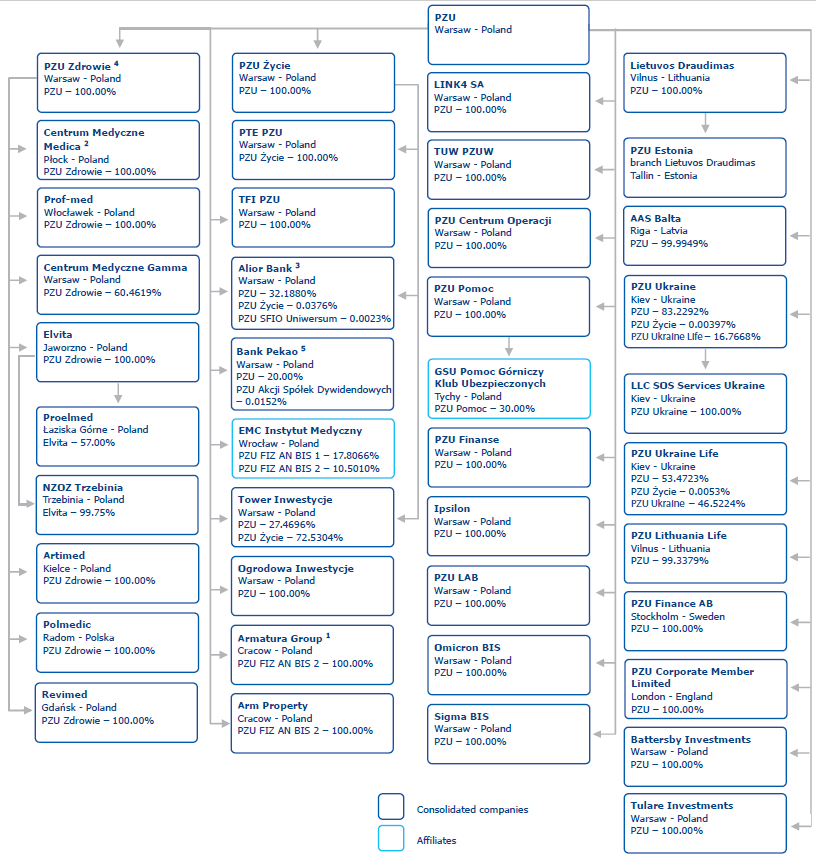 1 Armatura Group included the following entities: Armatura Kraków SA, Aquaform SA, Aquaform Badprodukte GmbH, Aquaform Ukraine TOW, Aquaform Romania SRL
2 Centrum Medyczne Medica Group includes the following entities: Centrum Medyczne Medica Sp. z o.o., Sanatorium Uzdrowiskowe "Krystynka" Sp. z o.o.
3 Alior Bank Group includes the following entities i.a.: Alior Bank SA, Alior Services sp. z o.o. , Centrum Obrotu Wierzytelnościami sp. z o.o., Alior Leasing sp. z o.o., Meritum Services ICB SA , Money Makers TFI SA , New Commerce Services sp. z o.o., Absource Sp. z o. o.
4 within PZU Zdrowie 3 branches are operating: CM Nasze Zdrowie, CM Cordis and CM Medicus
5 within Pekao Bank Group includes the following entities i.a: Pekao Bank Hipoteczny SA, Centalny Dom Maklerski Pekao SA, Pekao Leasing sp. z o.o., Pekao Investment Banking SA, Pekao Faktoring sp. z o.o., Pekao PTE SA, Centrum Kart SA, Pekao Financial Services sp. z o.o., Centrum Bankowości Bezpośredniej sp. z o.o., Pekao Property SA, Dom Inwestycyjny Xelion Sp. z o.o., Pekao Investment Management SA, Pekao TFI SA, CPF Management
The structure does not cover investment funds and entities in liquidation.
PZU – as the parent company – through its representatives in supervisory bodies of subsidiaries and voting at their shareholder meetings, exerts an impact on the selection of strategic directions regarding both the scope of business and the finances of the Group members. As selected companies focus on their specialization and utilize their membership in the Tax Group, these companies render services to one another on chosen markets pursuant to an internal cost allocation model (under the Tax Group).
The following changes transpired in the structure of the PZU Group in 2017 up to the date of publication of these financial statements:
On 7 June 2017 the deal initiated on 8 December 2016 was settled under which PZU and PFR entered into an agreement with UniCredit S.p.A. to acquire a 32.8% equity stake in Bank Pekao SA for a total amount of PLN 10.6 billion. The price per share was PLN 123. It is one of the largest transactions in the European banking sector in recent years. Read more
On 1 June 2017, the Bank entered into a preliminary agreement to purchase a 51% stake in Pioneer Pekao Investment Management S.A. (PPIM) from Pioneer Global Asset Management S.p.A. The total value of the transaction is EUR 140 million. The agreement was finalized on 11 December. As a result, the bank became PPIM's sole shareholder. Read more
PZU Zdrowie acquired shares in Revimed sp. z o.o. (in 2017). Elvita sp. z o.o. acquired shares in NZOZ Trzebinia sp. z o.o. (in 2017). Additionally, in 2017 the merger between Medicus sp. z o.o. and PZU Zdrowie took place. At the beginning of 2018, PZU Zdrowie acquired shares in Centrum Św. Łukasza sp. z o.o. Read more
On 4 December 2017, the shareholder meeting adopted a resolution to open the liquidation process of Ardea Alba SA in liquidation (formerly PZU Asset Management SA).
On 15 September 2017, PZU acquired 100,000 shares in Battersby Investments SA, representing 100% of the share capital and entitling it to 100% of votes at the shareholder meeting, and 100 shares in Tulare Investments sp. z o.o., representing 100% of the share capital and entitling it to 100% of votes at the shareholder meeting.
On 28 September 2017, PZU acquired shares in PZU Corporate Member Limited, entitling it to 100% of votes at the shareholder meeting. Read more