WSE-listed banks in 2017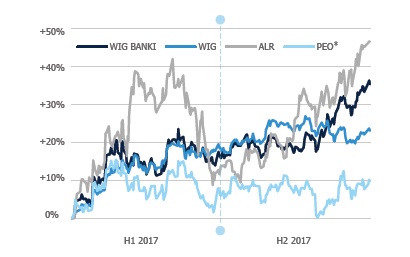 * PZU's share price adjusted for dividends (PLN 8.68 per share)
Source: PZU; www.gpwinfostrefa.pl
Context in the banking sector
In 2017, banks in Poland found themselves at a very fortunate point in the business cycle. On the one hand, the overall economic situation, corporate profits and employment kept improving. On the other hand, the Fed announced three hikes in interest rates and declared future hikes. As a consequence, banks operated in an environment of a low cost of risk and an outlook for growing interest margins, which translated into both higher profits and across-the-board improvement in analysts' recommendations.
"We are building PZU's value through active communication with our stakeholders while utilizing modern channels of communication. We are building trust and we care about good relations."
Investors' appetite for banking assets listed in Poland was not weakened even by NBP's statement of no plans for interest rate hikes in 2018. On the other hand, certain factors emerged that were conducive to an upward trend in stock prices, such as a reduction in the risk associated with a currency conversion of Swiss franc-denominated loans due to the sizeable appreciation of the Polish currency or the global trend toward investment in banking assets.
The WIG Banki index jumped up 35.4% y/y, beating WIG by 12 p.p., with only three banks (Pekao, Bank Handlowy and BZ WBK) distributing dividends of PLN 3.5 billion, which was the lowest result since 2009. The dividend yield was 6.7%, 5.5% and 1.4%, respectively.
In 2017, the share prices of the banks controlled by PZU, i.e. Pekao (a member of the PZU Group since 7 June 2017) and Alior Bank (a member of the PZU Group since 18 December 2015), went up by 2.9% and 46.7%, respectively.