"The New PZU – More Than Insurance" strategy stands on three fundamental principles: knowledge, accessibility and simplicity. They represent a material qualitative change related to our client approach. This change, however, also has a very specific economic and financial dimension.
The New PZU entails 4 key business areas whose development has been defined on the basis of the most forward-looking economic, technological, regulatory and demographic trends. PZU's long-term ambitious is to gain a leadership position on every one of the markets enumerated below.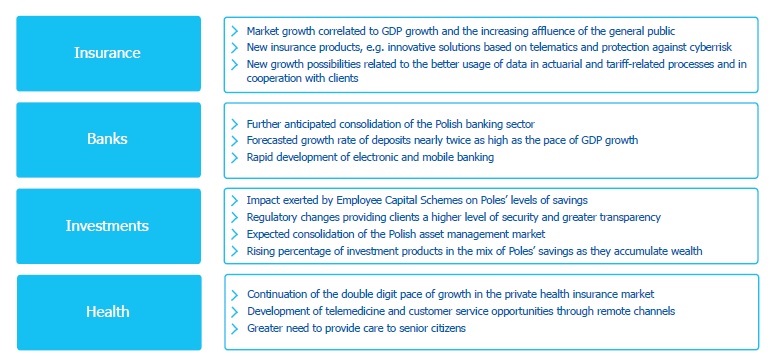 To attain its business objectives, PZU will substantially hone its skills in data management and mining to bolster client relations and enhance its ability to reach its clients through all available channels. This will considerably ramp up the number of products per client while making a material contribution to grow new sales.
Number of products per client in PZU and PZU Życie

Concurrently, PZU will augment its operating agility, the precision with which it sets its rates and its cost advantage, which, when taken together, will translate into a higher ROE (return on equity) up to above 22%, i.e. it will be nearly twice as high as the mean for insurance companies in Europe.
Contribution of the various lines of business to ROE growth

1 Taking into account the investment activity in our own portfolio and net of the health insurance presented by PZU Zdrowie
2 Pertains to third party asset management (giving consideration to all PZU Group entities)
"The new strategy contains very ambitious objectives. In relation to 2016 (the most recently completed year), we are driven by our ambition to increase the Group's ROE by more than 7 p.p. to more than 22% in 2020. We will generate one billion PLN in insurance premiums through our cooperation with banks. We will attract one million new clients for our banks. It is our wish to create a relationship that will be beneficial to both parties. We will materially grow our revenues in the health segment to one billion PLN in 2020. By consolidating the asset management market and growing our clients' savings, we will more than double the value of our portfolio, thereby reaching the watermark of 65 bn PLN in assets under management." – Tomasz Kulik, CFO of the PZU Group, 9 January 2018
The New PZU 2020 (profitability objectives)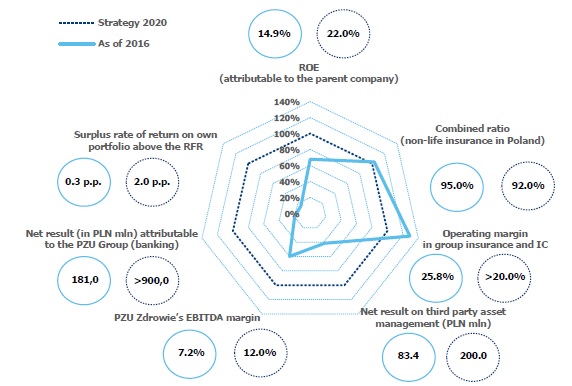 The New PZU 2020 (growth objectives)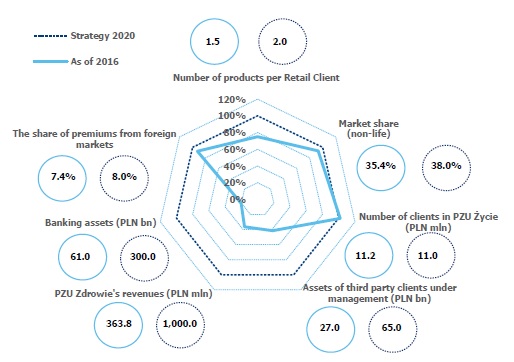 The New PZU means new ambitions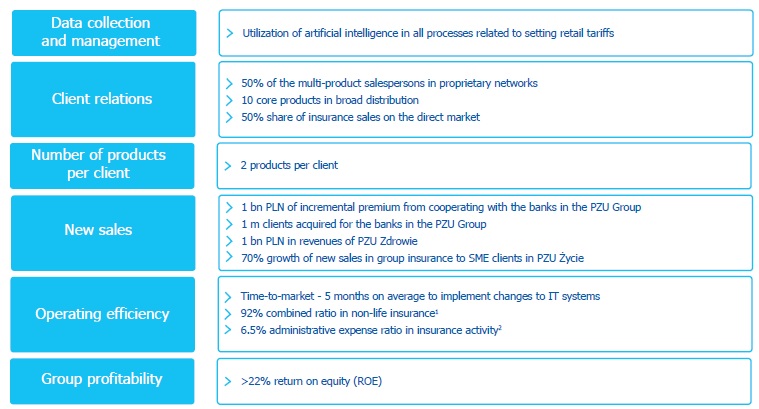 1 PZU jointly with TUW PZUW and LINK4
2 This indicator pertains to PZU and PZU Życie
PZU's ambitions will be achieved through 12 key initiatives (CHAPTER 4.4 STRATEGY OPERATIONALIZATION). Better data utilization, process digitalization, additional client interactions with clients and more extensive cross-selling will act as a catalyst for these efforts.